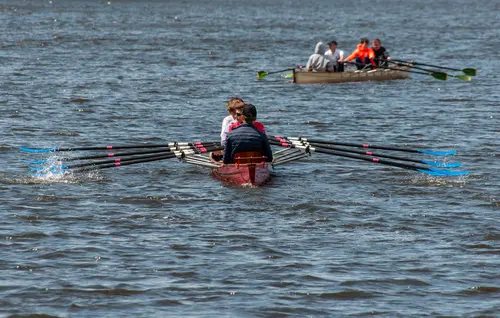 4 Reasons Operational Momentum Helps Fleet Managers Increase Productivity and Profitability
But first, what is Operational Momentum? There is this classic "rowing together" adage that prescribes that "Getting Everyone Rowing in the Same Direction" is critical to a team's success. If I may be critical, it only implies direction. While generally excellent business advice, without any resistance, the rowers don't need to row more than a couple of times and the boat carries on forever in the right direction. See Newton's First Law. Let's assume our rowers get paid a wage (reverse force). Now if our rowers are barely rowing in the right direction and keep getting paid, our poor boat is going to lose its forward momentum and even risk going backward!
I now suggest that Operational Momentum is believing in our rowing adage and accepting that in the real world we need to rely on company values to support individual day-to-day decisions that in turn contribute to increasing forward Operational Momentum so everybody can get paid along the way.
The Operational component refers to the many decisions and actions taken during day-to-day operations.
The Momentum component insists that no matter how small, the values aligned incremental day-to-day operational decisions contribute to the total momentum of the company. This momentum keeps the company on track with achieving its goals, making payroll, and preventing any reverse of course.
Now, if the leaders of our proverbial boat all agree on company values and exhibit them with enthusiasm as fundamental to company decision making, hiring, firing, and basis for rewards, they will act as a sort of decision compass. All employees will know without unnecessary approval processes what the company would benefit most from as they navigate the decisions of their day.
So now the reasons:
Reason 1: Leaders can lead.
The alignment of company values with momentum puts the original adage on steroids. A helpful benefit is that with values clear to the entire company, leaders lead rather than micromanage which is arguably more efficient and productive.
Reason 2: The Team.
The entire team benefits because with the values clear they help guide day-to-day decisions to reflect on company goals and nobody needs to wait for a 6-month review to hear if they are on the right track. Every single day employees can ask themselves if all of their many contributing efforts and decisions are truly aligned and contributing toward the goals and values of the company.
Reason 3: The Bottom Line.
As an exercise let's imagine total sales are perfect, so the "top line" is absolute. Now it's more important than ever for the small decisions to happen in alignment with company values. With this alignment, there is theoretically less time and money being committed to fixing efforts gone wrong or in the wrong direction. The bottom line grows. You're doing more with less.
Reason 4: The Equipment ROI.
Let's say a machine is down for maintenance or getting an oil change. If a company's goal is to provide equipment to customers or projects with the promise of little to no downtime, it would make sense to have a goal to plan to complete more preventative maintenance on that machine than just the basic oil change. An excellent metric to embrace could be a report on how many reactive maintenance calls are made each week. With some thought, a standard process could be adopted where technicians take an oil sample during oil changes which could indicate traces of coolant and future unplanned reactive maintenance. This proactive approach increases the ROI of the entire fleet and at the end of the year ought to improve productivity and profitability of the class of equipment and the company as a whole.