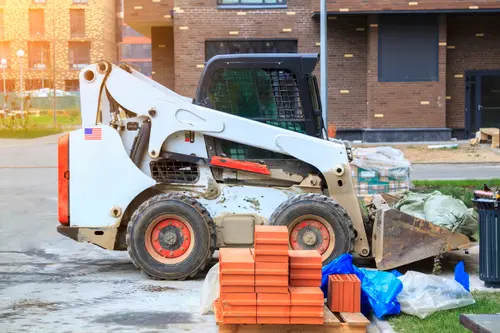 How Much Does a Skid Steer Weigh?
The average weight of a skid steer is approximately 7,500 pounds, which is about the same weight as a flatbed truck. The total weight of a skid steer depends on the make and model, as well as the attachments that are used on each machine. The larger and heavier the machine, the more powerful it will be, so deciding what size skid steer is best for you comes down to what you plan to use it for, and how the weight may affect your project, team, or business.
Knowing the total weight of a skid steer is important in scenarios such as:
Shipping

Lifting it with a crane

Towing
Since the skid steer weight can often make a big difference under certain conditions, it is essential to be aware of what could affect a machine's total weight, and how it might impact you.
Counterweight
Skid steers are notoriously heavy because they contain a counterweight. The weight distribution of a skid steer with an empty bucket is 70 percent rearward and 30 percent forward. Once you fill-up the bucket, the weight is evenly distributed, so both sets of wheels have the same amount of traction. Since the front tires glide across the surface when the bucket is unloaded, skid steers are easier to counter-rotate with the heavy rear end as well, however, the heavy rear end also limits your ability to climb steep slopes.
Attachments
The versatility of skid steer loaders makes them a popular choice for many construction fleets. Skid steers can be used for a wide range of jobs when they are equipped with the right tools, including farming, landscape work, and construction.
To determine which attachment is best suited for your skid steer, you must take into consideration the work environment, materials being used, and the job site. Here are some of the most common skid steer attachments that will increase the versatility of your fleet, and how much weight you can expect them to add to your machine.
Pallet Forks - Adds approximately 390 lbs

Drill Bit Augers - Adds approximately 230 lbs

Grapple Buckets - Adds approximately 700 lbs

Brush Cutters - Adds approximately 2,000 lbs

Box Blades - Adds approximately 1,000 lbs

Landscape Tillers - Adds approximately 900 lbs

Brooms - Adds approximately 1,000 lbs
Understanding the total weight of your skid steer is crucial since they need to be towed frequently to each job site, and require special care to ensure that their weight limit is not exceeded.
Popular Skid Steers
ASV VS-75 (8,740 lbs)
Bobcat S510 (7,893 lbs)
Case SR130B (5,000 lbs)
Cat 272D3 (9,133 lbs)
John Deere JD24 (4,750 lbs)
Kubota SSV65 (6790 lbs)
Common Uses of Skid Steers
Skid steers are compact, versatile construction machines that are most commonly used for digging on job sites. These lightweight and maneuverable machines can be combined with a variety of attachments to suit the needs of numerous construction projects.
Skid steers get their name because the tires are fixed until the operator controls the wheels on one side of the machine. This creates a skidding motion as the machine rotates to perform a variety of actions. Skid steers can perform the functions of several different machines in one piece of equipment thanks to their wide range of attachments. Some of the most common jobs for skid steers include:
Clearing Snow
In more severe winter conditions, the bucket can also be used to clear snow, or a snowblower or a snow blade attachment can be used to clear a path.
Excavating
Using attachments such as the tiller, trencher, or wheel saw, a skid steer can be used for excavation jobs.
Construction
The machine can be equipped with a cement mixer or pavement miller for building or construction work.
Landscaping
A skid steer's stump grinder, tree spade, wood chipper, and trench-digging attachments make it an ideal choice for landscaping, while pallet forks and bale spears make it an excellent tool for farm and warehouse operations.
Trenching and Digging
One of the most popular uses for a skid steer is trenching and digging using trench digger, auger, and backhoe attachments.
Skid steers are incredibly versatile machines that make a great addition to any fleet, as long as they are operated safely and correctly. Understanding the weight of the skid steer, as well as any attachments you plan to use, will help to give your equipment a longer lifespan, and make sure that it meets all safety standards.