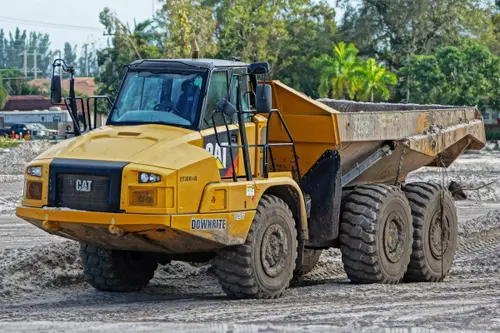 How to Find the Best Used Articulated Dump Truck For Sale
If you need to move heavy materials over rough terrains, you need dump trucks as part of your fleet. However, finding a good used articulated dump truck for sale can be challenging.
While it's a complicated machine, yet necessary for your worksite, finding the right one should be your greatest concern. This guide will take you through how you identify the best machine, determine its value and inspect it to ensure it's in good condition.


How to Identify the Best Used Articulated Dump Truck for Sale
Here's what to consider to determine what's suitable for your use case.
Capacity
What is the size of your hauls and average weight? Before buying the truck you're considering, you need to determine how large your hauls will be. Otherwise, buying a smaller dump truck might mean you'll have to make multiple trips, which will cost you more. Buying the right size ensures optimal efficiency and productivity.
Machine Value
Conduct a thorough inspection of the used articulated dump truck for sale that you're considering to determine its value. The value of the machine will depend on things like;
Total hours of engine operation. If the hours are extended, there's possibly significant wear and tear, and it may not offer you value on your investment.

Age of the truck. If the machine was used and maintained well, it might still offer value, so determine the current worth.

Signs of misuse and damage like rust, bowing, and bends.

State of the components, including the body, axles, engine, and frame rails.
Other things to consider when buying used dump trucks include the type of work you'll be doing and the engine transmissions in the machine you're considering.


Common Uses for These Types of Machines
An articulated dump truck is an all-wheel drive heavy equipment vehicle, excellent for hauling loads over rough terrain. They are larger than other regular dump trucks and handle well on off-road, inclines, and slippery conditions.
Because of this, they are excellently suited for use in hauling areas like mines, quarries, forestry, and construction, where the site is rugged.
Machines in this category:
John Deere articulated truck

Volvo articulated truck

Komatsu articulated truck

Caterpillar articulated truck


Things to Inspect When Buying a Used Articulated Dump Truck
Axles, frames, and rails: Check the frame rails for signs of corrosion or wear. Note any sagging bends which could result from overloading or bowing bends that occur when the truck is operated with a loaded, upright box.

Hydraulic lifting cylinder and rod: A dump truck may come with a scissor box, single ram, or double ram lifting mechanism. Check for cracks, corrosion, leaks, or dents on the lift cylinder, reservoir tank, and pump. Lift and lower the dump box, checking for smooth operation.

Brakes and box wear: Check the truck's brake system. Is it a dry or wet system? Does it have a retarder, and is it working? If it's not working, the brakes could be excessively worn out. For wet brakes, you need to test them with a load. Also, check the dump box for dents, cracks, or rust. Note the material it's made of and whether the inner lining, which helps sticky materials fall out, is in good condition.

Body and tires: Check the body for any significant repairs. Start the machine and look under the hood for leaks. Are there date stamps to show when maintenance was last performed? Check the tires for uneven tread wear that might indicate alignment issues. Also, check for signs of plugs and patches, splitting seams, or bubbles, a sign they might not hold air well.

Hinge pins and hitch: The hitch and hinge pins in an articulated truck connect the operator cab and the dump box. Check for play in the hinge pins by raising the box. Tilt it side to side and test for play in the hitch.

Hours: The longer the hours, the greater the wear and the chances you'll need to replace components soon.

Engine: The engine is one of the most critical and complicated components. It's best to have a qualified mechanic with heavy equipment experience inspect it on your behalf if you don't have the experience.
While inspecting the machine is paramount, the seller should provide you with data like safety inspections, maintenance records, mechanical service and repairs, oil analysis, and quality photos and videos. These records ensure you're getting value from the purchase and that you don't have to go on-site every time.


Find the Best Used Articulated Dump Truck for Sale at Boom and Bucket
If you are looking for a used articulated dump truck for sale, finding the best machine can be daunting. However, with a reliable partner like Boom and Bucket, you can be sure to get the equipment you need to power your operations and value for your money.\ Our team of professionals will help you find the best used articulated dump truck. We know what to look for in an inspection, so you can invest in a truck that will increase efficiency and productivity in your operations.