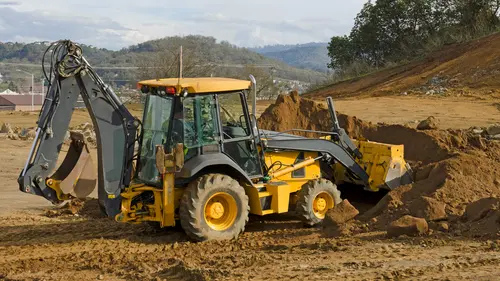 How to Find the Best Used Backhoe for Sale
Are you searching for the perfect used backhoe for sale? If so, you probably have quite a few options. While this is true, there are some tips you can use to find quality equipment that will provide the results you need.
While buying new may be preferable, this isn't always an option, especially for small business owners. However, don't worry. You can find a quality used backhoe for sale by owner if you are willing to put in the time and work. Some tips to help you with this process can be found here.
What to Review and Inspect: A Checklist
Before diving into more specifics about what to look for when buying a used backhoe, there's a basic checklist to keep in mind. This includes:
Hour Meter:

This isn't always a reliable indication, so make sure you check the machine's condition.
Tires:

Inspect the tread and look for any sidewall gashes.
Bucket cutting edge and loader bucket:

Pay attention to the leading edges, the bucket side panel thickness, and bucket weld integrity.
Bucket teeth:

Look for any missing bolts or worn, loose, or missing teeth.
Loader arms:

Look for any bends, re-welds, or cracks.
Boom and stick:

Look for signs of dents, re-welds, or spillage.
Hydraulic system:

Look for scratches or breaks in the hoses and look at the cylinders for damages or leaks.
Pins and bushings:

Make sure of a good fit and that there is no abnormal wear or movement.
Stabilizers:

Look for signs of pads that are flat and free from damage, signs of leaks, and make sure there are no dents or cracks in the stabilizer arms.
Research the Model of the Machine You Are Interested in Purchasing
If you have found a used backhoe you are interested in purchasing, a smart step is to go online and look up the make and model. See what other buyers have to say about the machine. You can go to construction or machine forums to find out what experts have to say about different machines. The information may help answer some questions you have about the machine.
You may have answered if there is a history of problems with the specific make or model. Remember, a backhoe is like a vehicle, and there may be years where something new was added that did not work as expected. It may have had serious issues with breaking down, as well.
Other issues may be that the model you are considering is hard to find parts for or that parts may be on backorder when you need them. Issues like this can reduce overall productivity on your worksite, so it is best to know before you buy.
Take the Backhoe for a "Test Run"
It's a good idea to test out the backhoe yourself if the seller is agreeable. If not, ask them to operate it for you.
The first step is to find somewhere to do some digging. Put the backhoe's stabilizers down and ensure they have enough power to lift the backhoe into the air.
Begin digging. While you are digging under full force, watch for signs of engine lugging and watch the exhaust. Take note of any odors, such as fumes or hot oil. You need to watch to see if there is any slope or looseness in the extend-a-hoe portion of the boom. Look for slop in the bucket pins, as well.
If you are using max force, you should be able to pull the backhoe backward. Be sure to fill in the hole or trench once you are done testing the digging capabilities.
It's also important to test the front-end loader. See if the seller has something you can load and fill up the bucket. Once full, lift it as high as possible. This is a great time to see if there is any "play" in the bucket or loader arms. If there is wear or play, the bushings and pins may flop slightly.
Be sure to take some time to test the machine fully. Once the test is done, get out and check the machine while it is idling. See if there are signs of leaks around the pumps or hose fittings or issues near the transmission or engine. Check for signs of wear under the buckets – both the digging ones and front-end loading ones. Notice any blow-by and smells such as hydraulic fluid or burned oil.
Find a Trusted Seller
When you are searching for a used backhoe, you may find options that are "for sale by owner." If you are concerned about buying from an individual, consider using a reputable source, such as Boom & Bucket. Savvy backhoe owners will use this site to create a listing to sell their equipment. You can also have confidence that the machine you purchase will meet your needs and expectations if you find them on the Boom & Bucket website.
While this is true, it's still important to conduct your due diligence. Using the inspection tips above can give you peace of mind that you have found a reputable seller and quality piece of equipment. Just like with vehicles, there are "lemons" out there. Because of this, you need to ensure you find a backhoe that best meets your needs.
Are You Ready to Purchase a Used Backhoe?
When it comes to buying a used backhoe, there are many factors to consider. Take some time to use the tips and information here to ensure that you get the quality equipment you need for a fair price.
While there are a lot of used backhoes for sale that you can choose from, they are not all created equally. Take time to find one that meets your needs, specifications, and budget. Doing so will ensure your worksite is productive and efficient, which is a must for any type of construction work or another busy worksite where heavy machinery, like a backhoe, is needed. Being informed is the best way to ensure you get a quality used backhoe.