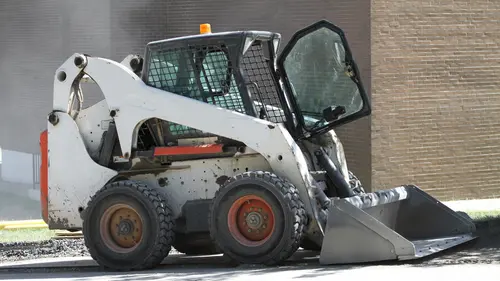 How to Find the Best Used Skid Steer For Sale
If you are in the market for a new skid steer, consider the possibility of investing in used machines before buying brand-new equipment. Used skid steers provide a lot of value, and are a fantastic choice for companies looking to expand their capabilities without exhausting their budget.


Why Buy a Used Skid Steer?
Purchasing a used skid steer provides your company with the opportunity to expand its capabilities and fleet, without going beyond your budget. Not only will you save on the typical up-front costs of purchasing a new skid steer, but you will also enjoy a larger variety of equipment that ranges in cost, size, make, and model. This means that you can select just the right piece of machinery that suits your unique needs and budget.
A used skid steer also frees up some of your cash flow, which allows you to use the difference that was saved to enhance other areas of your business. Since the depreciation of used skid steers is lower than other heavy machinery, you can rest assured that your investment will maintain its value for years to come.
Maybe you're starting something new, if so, check out our in-depth guide on how to start a skid steer business.
How to Choose a Used Skid Steer
When purchasing a used skid steer, there may be an overwhelming number of options to choose from. The first step to narrowing down your options is to determine your budget and only look at machines within that range. It is also important to consider what this equipment will be used for, and what will be expected of it while on the job. This information will help further narrow down the options since you will only need to look at machines that have the features, durability, and capabilities that you will need.
How to Determine the Value Of a Used Skid Steer
Once you've taken the time to outline your specifications, budget, and expectations, it's time to determine which skid steer models are best suited for your needs. This step can be a bit research-intensive, so it helps to use a reliable source to learn more about each machine. A site such as Boom & Bucket neatly outlines the price, specifications, and details of each machine that is available and delivers the information to you on a user-friendly platform.
Boom & Bucket allows you to carefully evaluate a variety of options and even provides the pros and cons of each individual machine. This allows you to go into your purchase confidently and outlines the benefits of each skid steer, as well as the areas in which it may require some care or attention.
Here is a list of the key areas you should inspect before buying a used skid steer, to gather as much information as possible about each machine that is for sale:
Consider Its History
Anytime you are considering buying a used piece of machinery, the first step is to consider its history, and gather as much information as possible about its previous owners and how it was used. This is important because if a skid steer was used incorrectly, it increases the chances of poor performance, costly repairs, or equipment malfunction.
Evaluate Its Log Hours
If you are not familiar with the log hours of heavy machinery, it will be important to do some research at this stage to determine just how many hours would be considered to be "a lot" or "too much" in relation to the age of a machine. Generally speaking, the lower the number of log hours, the more value a machine has. This means that the machine has not been overworked, and has less of a chance of requiring excessive maintenance or repairs.
Skid steers that are considered to be full-time are typically used for about six hours per day. To ensure that you are choosing a machine with limited amounts of wear and tear, it is best to choose an option that has an average of no more than five or six hours of continuous use each day.
Work With a Private Mechanic
Purchasing a used skid steer is not something you should attempt to do on your own. While some defects are clearly visible to the untrained eye, sometimes it takes a skilled professional to see signs of excessive wear, hazards, or defective parts. It is best to work with a trusted mechanic who has the experience and knowledge required to thoroughly examine the machine itself, its records, and help advise you on whether or not it is a wise purchase. Certified mechanics who have worked with skid steers in the past will arm you with knowledge and assist you in going into your purchase as a well-informed buyer.
Look Over Maintenance Records
Just like cars, used machinery such as skid steers have their own maintenance records. Not only do these records document the work that has been done on the machine, but they also provide evidence of what was not done. To keep equipment running smoothly, it is imperative that it receives routine maintenance and repairs. If not well-maintained, the machine has decreased durability and reliability, and is at risk of needing more expensive repairs.
Before making a purchase, make sure that the skid steer has been frequently inspected, and has a thorough maintenance record on file.
Conduct a Visual Inspection
Last but not least, you will want to do a visual inspection of the machine to check for any signs of wear, tear, and damage. Signs to be aware of include scratches, dents, cracks, worn-out cables, and failing welds. It is also important to inspect the lights, battery, tires, windows, bucket, canopy, and seatbelt functionality to determine the condition of the skid steer. Failing to inspect these areas prior to making a purchase puts you at risk of going over-budget with costly repairs that could have been avoided if the machine was thoroughly inspected.