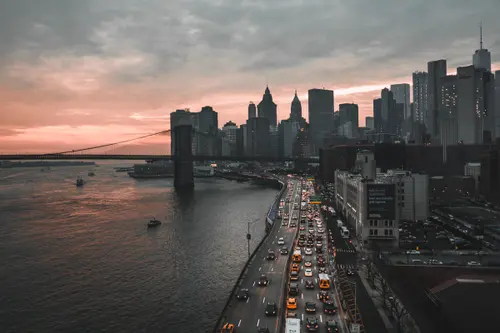 How to Get a Piece of the $1T Infrastructure Bill
The government recently passed a new infrastructure bill for over $1 trillion. This will be one of the largest upgrades to our highways, roads, and other transportation infrastructure in this generation. With billions of dollars being invested in mitigating climate change and rebuilding our public works system, the hope is that the major upcoming projects will produce thousands of jobs for Americans. This bipartisan legislation is called the Infrastructure Investment and Jobs Act and will kick off countless essential projects across the country. These projects will offer work and financial stability for organizations who are seeking long-term projects, rather than relying on their backlogs for upgrades and repairs.
Many organizations are wondering what the new infrastructure bill means for them, and how they can prepare their construction firm for the upcoming changes. Let's dive in.
Since the bill was passed, $110 billion of the $1 trillion budget in infrastructure funds have been released. Over 3,000 communities have benefitted so far, having received bridge and tunnel reconstruction, new buses, and improvements to airports.
The bill has allocated $110 billion for road work, $65 billion for more widespread and affordable broadband, $66 billion for railways, $55 billion to improve water infrastructure, $25 billion for airports, $39.2 billion for new transit, and $5 billion to create electric vehicle charging stations.
How the Infrastructure Bill Will Affect the Construction Industry
This legislation is expected to create a 5 percent increase our construction spending in the upcoming year, with another 5.5 percent increase in the following year in 2023. Over the next ten years, the White House anticipates that the new bill will generate 1.5 million new jobs.
How Will the Construction Industry Adapt?
The new bill is expected to increase the demand for both engineering and design jobs. It is estimated that approximately 82,000 full- and part-time jobs in engineering and design will be required, leading to a $416 billion output by 2026. This means that more money will be invested, therefore creating more jobs. However, many are wondering how the construction industry, already fraught with labor shortages, material shortages, and supply chain issues, will adapt to this increased demand. Many of the upcoming projects, such as building electric vehicle charging stations, will require professionals across various industries, including the construction industry.
A New Interest in Construction Jobs
The new infrastructure bill is expected to jumpstart more interest in the well-paying careers available in the construction industry. As new projects arise, there will likely be a demand for new jobs that don't currently exist. With so many non-traditional infrastructure upgrades, including a $65 million investment in broadband/internet upgrades, the bill is expected to create a variety of new job opportunities for skilled workers across all regions of the country.
With an increased demand for skilled workers, we are likely to see more promotion and development of construction-related degree programs. Some AEC firms are partnering with universities to fund research, create new programs, and mentor construction students. These measures will help prepare the industry for the influx of work, and help close the gap between the labor shortage and the demand for skilled workers.
How You Can Get In On the Action
Now that we've discussed how the money will be allocated, you're probably wondering how you can get in on the action. How can you put your business in a position to win contracts allowing you to take advantage of this funding?
The first step will be to register your business with organizations that will improve your visibility and boost your credibility. Begin by registering your business on the System for Award Management (SAM) database, and create a profile that government procurement officers can use to find your business. Once you've completed that step, you'll want to get yourself on the pre-approved bidder list on the General Services Administration (GSA). When you secure a contract with the GSA, you will "get onto the GSA schedule", meaning you are approved to do business with the government.
During this process, you will apply for a DUNS number, since anyone wanting to do business with the government will require a unique entity identifier (UEI). The DUNS number, which is the official UEI, is a nine-character identification number that is unique to you and provided by Dun & Bradstreet (D&B).
Once you're registered, you'll want to start small as you bid for government contracts. Past performance is one of the top factors that government agencies consider. To prove your abilities, you'll want to begin by bidding on contracts that you are confident in, can deliver quickly, and where you can provide the most value. This will help build your credibility and make your services more appealing to potential buyers. Remember that it's always better to under-promise and over-deliver to exceed expectations, rather than overcommitting and under-delivering on your promise.
Government infrastructure projects are typically complex, and often require several subcontractors across a variety of industries to complete. Seek out tasks that are well within your wheelhouse that match your expertise to make a name for yourself and build up your reputation.
The demand for skilled construction workers is at an all-time high. With these strategies, you'll be able to position yourself to get a piece of the new infrastructure bill if you are a growing construction business in 2022. This is an exciting opportunity to build and expand your business, build your reputation, and become a force in the construction industry.