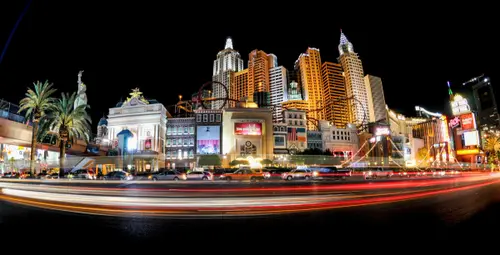 Skip the BS: Best things to do in Vegas while at ConExpo
ConExpo is less than 3 weeks away. The Expo itself is huge and so is Las Vegas. Don't let the expo halls lined with seemingly endless booths or Sin City overwhelm you. Boom & Bucket put together a guide to all the best of the best during the week of March 14, 2023. Check it out below.
A must-see at the Expo
It's the CAT® Global Operator Challenge Finals!
Fans from around the world will cheer on their favorite operator in three exciting equipment challenges. These nine finalists fcompeted against more the 5,000 other machine operators to earn their spot in the final round.
With nerves of steel and the skills of a surgeon, the nine competitors won't give up until they're the champion of the Cat® Operator Challenge.

Who do you think will win?
Pontus, Nick, Matt, Sebastian, Fernando, Masato, John, Lukasz, or Patrick?
Watch the competition in Cat Operator Stadium at CONEXPO-CON/AGG 2023 Las Vegas, NV or watch the competition streaming live broadcast!
3 activities off-the-strip to make your CONEXPO trip even more memorable
DIG THIS: Did you know that there's a rental yard in vegas that lets you use heavy machinery to wreck stuff? Let's go Office Space with heavy equipment. Boom! Book your visit to Dig This!


NEON BONEYARD MUSEUM: One of the best things about Vegas is all the glittering lights. At the outdoor neon sign museum you'll get to walk through and view all the vintage neon signs from the golden days of Las Vegas. Purchase Tickets in advance, as it often sells out!


EXOTIC CAR RACING: Can you handle life in the fast lane? Try your hand (and feet!) in your choice of super cars and race cars. Not quite ready to burn rubber? A few locations have simulators.
Exotics Racing
Dream Racing
Speed Vegas
Top 10 spots to grab a cold beer -- on and off the strip
Feeling a bit parched from the dry climate or all the networking happening at ConExpo? Rest assured, you can easily find a cold beer (glass of wine, water, or drink of your choice) both in the bars & shops at the hotels as well as away from Las Vegas Blvd.
Beerhaus (The Park, 3782 S Las Vegas Blvd): located on the Strip, this modern beer hall features over 20 draft beers from local and international breweries, as well as a rotating selection of seasonal brews.
Public House (The Venetian, 3355 S Las Vegas Blvd): also on the Strip, this upscale pub has a rotating selection of over 200 beers, including many craft and specialty options.
Hop Nuts Brewing (Downtown, 1120 S Main St): located off the Strip in the Arts District, Hop Nuts Brewing features a variety of unique and flavorful craft beers, as well as a comfortable indoor/outdoor space to enjoy them in.
Tenaya Creek Brewery (Downtown, 831 W Bonanza Rd): this award-winning local brewery has been crafting high-quality beers in Las Vegas since 1999, and their taproom offers a rotating selection of seasonal and limited-edition brews.
Aces & Ales (multiple locations): with three locations across Las Vegas (including one on the Strip), Aces & Ales is a popular spot for craft beer enthusiasts, with over 50 rotating taps and a selection of rare and hard-to-find beers.
Atomic Liquors (Downtown, 917 Fremont St): this historic bar, which has been serving drinks since 1952, offers a rotating selection of craft beers on tap, as well as a diverse selection of bottled and canned options.
Ellis Island Casino & Brewery (Off-Strip, 4178 Koval Ln): located just off the Strip, this family-owned casino and brewery offers a variety of house-made beers, as well as a popular on-site restaurant and karaoke lounge.
Bad Beat Brewing (Off-Strip, 7380 Eastgate Rd #110): located in the Henderson suburb of Las Vegas, Bad Beat Brewing offers a variety of unique and flavorful craft beers in a spacious taproom with plenty of seating and games.
CraftHaus Brewery: Inspired by Bavaria's craft beer culture, husband and wife team Wyndee and Dave Forrest opened CraftHaus in Henderson, Nevada, seven years ago and added a second taproom on what would become Brewery Row in 2019. With local artwork lining the walls, CraftHaus offers a rotating selection of two dozen seasonal beers, including lagers, sours, and IPAs. The Forrests both believe "Beer is art in liquid form."
Able Baker Brewing: Named after Able and Baker, the first two atomic bombs detonated at the Nevada Test Site in 1946, Able Baker Brewing pays homage to the Atomic Age with clever artwork and decor. Pull up to one of the long wooden tables and order their signature beer, a citrus-forward IPA called the Atomic Duck. (Legend has it that a duck was the only animal to survive the blasts.)
St. Patrick's Day in Vegas -- How to celebrate and where to find a green beer
Vegas is a fun place to be on March 17th as green beer and Irish whiskey flow at most Las Vegas bars and pubs while you sit back and enjoy live entertainment and authentic Irish food the Vegas way. Let's face it, Las Vegas is known for doing everything big. St Patrick's Day is no exception. But you don't have to be a beer or whiskey drinker to enjoy St. Patty's Day.
Celtic Feis Celebration at New York-New York

St. Patrick's ShamROCK Celebration - Fremont Street Experience

St. Patrick's Day Firefighters Parade, Fun Challenge & Block Party (Downtown) -- Hosted by the Las Vegas Valley Firefighters

O'Sheas St. Patrick's Day BLOQ Party at The LINQ Promenade

St. Patrick's Day at The LINQ Promenade

Green Beer & Sheningans at Hennessey's Tavern (Downtown Las Vegas)

Ri Ra Las Vegas' St. Patrick's Day Celebration
Get all the details on these events and a list of all the Irish pubs in Vegas on Las Vegas How To
Catch a Vegas show
The shows in Vegas are truly spectacular, and worth the time and money. Our team voted on their top 5 favorites shows. We recommend you catch one - or all 5 if you are ConExpo all 5 days. Hopefully, they can help you not hate Vegas before you depart.
The Beatles LOVE by Cirque du Soleil. .

Mat Franco Magic Reinvented Nightly

"O" by Cirque du Soleil

Absinthe

America's Got Talent Live (as David Copperfield is dark the week of ConExpo!)
Oh, and we should mention, there are hitmakers with residencies playing this week. Check out who's there.
Adele

Keith Urban

Wayne Newton

Bonnie Raitt
Looking for a laugh? There are some great (and very affordable) comedy shows in Vegas including:
Terry Fator

Comedy Cellar

Rita Rudner

Nathan Burton Comedy Magic Show

Laugh Factor Comedy Club

Pablo Francisco at Jimmy Kimmel's Comedy Club
March Madness - Starts on the 14th
While games start in Dayton, OH and don't make their way to Vegas until March 23 & 25, 2023, there are still plenty of great sportsbook and spots to watch all the NCAA games. Will one of the top 10 picks like Houson, Alabama, Kansas come out on top? Or will an underdog like TCU, Saint Mary's, or Texas A&M pull off a huge upset? Make your picks today - Here is a printable bracket
During March Madness, some of the best sportsbooks to watch the games include:
ARIA: The Aria offers 90 HD screens, so you're pretty much guaranteed to have an awesome view of ever dribble, pass, and swoosh.

Venetian: Featuring one of the most advanced video screens on the continent, you'll be amazed by the views you'll be able to get of the games here. There are 118 lavish betting stations, too.

MGM Grand: With 36 65-inch LCD TVs, 24 42-inch plasma TVs, and seating for 104 people, you'll have front-row seats to the nail-biting games.

Caesars Palace: At this acclaimed casino, you'll find six 12-foot by 15-foot screens, 12 50-inch plasma TVs, and a 20-foot by 50-foot LED board for your unobstructed viewing pleasure. There are also 140 sports seats with 12-inch flat screens situated on each table.

Mirage: Watch the events on the huge 85-foot HD projection screens that offer 4X resolution of 1080p. Talk about an amazing view!

Westgate: Offering an immense 220-foot by 18-foot 4K video wall and more than 350 seats, you'll feel as if you are actually at the game when you watch it at Westgate's sportsbook.

Circa: The best place hotel to watch and bet on March Madness in Downtown Las Vegas. Be sure to check our Stadium swim while you are there.
**Note, most of these sportsbooks will have reserved seating for a price.
There are also a variety of Watch Parties around town. You must reserve your spots at those parties. Check out a complete list of March Madness Viewing Parties here
ConExpo Parties, Giveaways & Networking 101
If you are a ConExpo first-timer (or even a veteran!) who wants a scannable guide to making ConExpo a success, we've got you covered.

Every booth and company gives out swag and freebies - everything from pens to koozies, shirt to yetis. You could probably go home with a whole suitcase full of goodies. While fun and free, they aren't going to be the awesome giveaways that could change your life or business.

Some of the potentially less- known brands are offering awesome giveaways at ConExpo - grill giveaways, an all-expenses paid vacation, a 2-Year Lease On Hyundai Ioniq 5 Electric Car - but nothing is as major as the The Bucket List Sweepstakes from Boom & Bucket. Yes, yours truly is offering a chance to win a life-changing $1M dollar. What are you waiting for? Enter Now

We are compiling a list of all the best parties around ConExpo to make networking fun and easy. You can sign-up for the list today and we'll send it a few days before the Expo starts.

To have ConExpo work for your business, you need to use the Show Planner to schedule your booth stops. Use your google calendar or calendar on your phone to send out meeting invites to all the folks you want to talk with. Want to be one step ahead of the competition? Download the ConExpo App for Scheduling Now

Remember, stop by the Boom & Bucket booth - North Hall N11901. We'd love to talk to you personally about how we can help your business grow and succeed in 2023 ... and beyond!