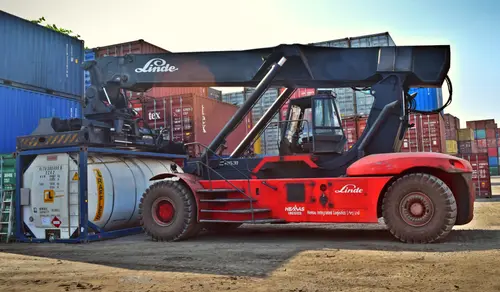 The Best GPS Tracker for Heavy Equipment
Construction equipment is usually pretty costly, and they're not something you want in your monthly or even annual budget. That is why it is essential to ensure that your investment is protected, working optimally, and giving you good returns.
As a result, you need to eliminate idling, unauthorized and wrong use, thefts, and fuel wastages, as they make the cost of maintenance and operations huge.
An effective tracking solution is a perfect answer for you. With a GPS, you'll easily locate, monitor, and track your assets to ensure their security, proper utilization, and performance in the field.
In this guide, we explore how you can use GPS trackers in construction for your heavy equipment, and offer some options to help you choose the best fit for you.
How Do Construction Companies Use GPS Trackers for Heavy Equipment?
GPS has been used for a long time to track the movement of vehicles and gadgets. GPS tracking incorporates hardware placed on the equipment and software from which you can monitor it.
However, with various needs and types of equipment, you can never know what GPS is best for your heavy equipment.
Here is how construction companies use GPS trackers for greater asset management.
Remote Site Management
If you manage a huge construction site, you need a way to know where each piece of equipment is at all times. With an effective tracking system, you can easily verify the position of equipment from wherever you are.
A good instance is where an excavator scheduled to be at the center of the site at noon is not there. As the site manager, you can use the GPS tracker to locate it and direct the site workers to move it. Minus the system, you'll have to be onsite to notice the problem.
You'll also manage the hours your workers are putting in and improve your payroll efficiency. The system will record and save activity logs that you can access from anywhere, making it easier and quicker for you to compensate your workers.
Theft Prevention
The cost of heavy equipment makes them prone to theft. As an investor, you'll want to protect the equipment, and a good GPS should do the work. You'll set the system to alert you whenever an asset changes position or moves outside certain boundaries to enable you to take preventive measures. This way, you can alert authorities and security to handle the issue.
Asset Maintenance
You'll want your equipment to be in optimum condition and safe for use. You can use a GPS tracking and monitoring system to ensure your equipment is working optimally and safe for workers to use.
The GPS device installed on your asset taps into the onboard diagnostics system. Your tracking device's telematic functioning provides accurate, up-to-date reports about the condition of your equipment, alerting you of any errors.
Here are some reports the telematics system will provide.
Fuel consumption and usage

Engine idle time

Asset idle time

Proposed preventive maintenance services
With such information, you can take steps to repair the asset or take it to service.
Public and Employee Safety
Heavy equipment is not limited to construction sites. You have trucks and trailers used to transport materials from area to area. While you may want to trust that the employees are following rules, you must ensure they are driving safely.
A GPS will help you track and monitor various aspects, including;
Driving speeds

Vehicle maneuvers

Acceleration and braking rates

Idle times and unauthorized routes, and diversions
Learning the behavior of your drivers can help you rein rowdy behavior. That way, you can avoid high insurance costs and legal fees from lawsuits and accidents. You'll also get to maintain a good brand name.
Protect your Heavy Equipment with Tenna
Protecting your heavy equipment from theft, misuse, and deterioration help you get a return on your investment. At Boom & Bucket, we recommend Tenna Asset Tracking. The system provides telematics and tracking functions that let you save time locating and managing assets on a single platform.