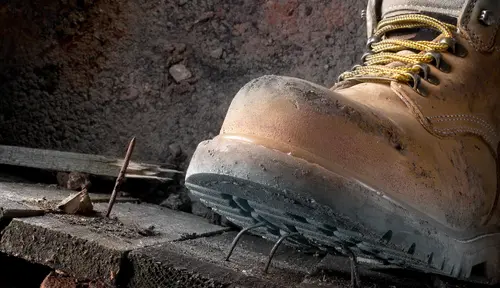 The Best Work Boots for A Heavy Equipment Operator
As a heavy equipment operator, having proper work boots can mean the difference between life and death. Your performance and safety are directly tied to two features of your work boots: protection and comfort.
Naturally, dealing with heavy machinery and heavy loads means you'll want to take all the necessary safety precautions --- otherwise, you could get hurt quite badly. But just being protected from job hazards isn't quite enough; the boots still have to be comfortable in various conditions, or you simply won't be able to focus on your work.
Unfortunately, most construction boots are designed primarily with protective features in mind --- leaving you with a market flooded with work boots that are uncomfortable and overpriced. With that in mind, we'll take a look at some of the best exceptions to that rule.
Red Wing King Toe Boots
If you don't mind paying over $200 bucks for the best construction boots, you'll find that Red Wing is one of the best manufacturers in today's market. They've got a great industry-wide reputation, and they're Minnesota-made --- and though it seems a part of their production was outsourced to Latin America, their quality still hasn't disappointed.
Their King Toe series is especially notable for the extra wiggle room you get --- almost 45% more compared to the standard Red Wings model. Plus, they've got a non-metallic safety toe, they're EH-rated, and they've got a waterproof design and puncture resistance. Also, their HRO sole is resistant to up to 475°, so they can handle heat as well.
Thorogood 1957
Thorogood is another premium work boot brand whose models will also set you back over $200 --- but they're worth it, especially if you're a sucker for that classic work boot design and you're after the best work boots for construction.
Of course, style is not your primary concern here, but it also doesn't hurt. And the boots from Thorogood's 1957 series have a wedge sole and moc toe. The great thing about having a wedge outsole is that it does a great job of spreading your weight more evenly, resulting in a more comfortable experience throughout long shifts. And the moc toe isn't just about style either --- that extra seam also means a leather layer with a little more protection compared to your standard boots. Plus, all of their models are waterproof --- both in terms of the full-grain leather from which they're made, and the waterproof membrane liner.
One of the reasons why the Thorogood 1957 series is so expensive is that they've built in the USA, with globally sourced materials.
Keen Utility Roswell
Usually, buying lighter work boots means making a compromise on stability or build quality --- neither of which is a trade you'd want to make. And that's what makes the Keen Roswell series stand out as a great lightweight work boot. Their carbon-fiber safety toe model comes in at about 22 ounces, while the soft toe is under 20.
The canvas upper adds breathability while also reducing the weight, and there's also a great fold-down design that allows you to wear it down or up depending on your desired look and the conditions you're working in.
Also, they're quite a bit less expensive than our first two picks, clocking in at around $150 on average.