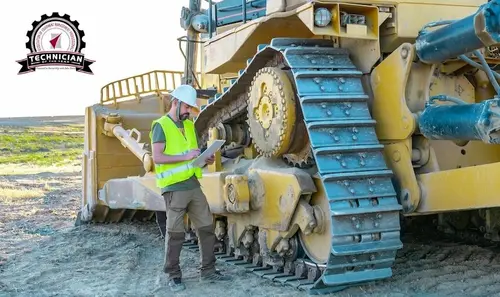 AEMP Technician of the Year Award Nominations Now Open
It's that time of the year again! The Association of Equipment Management Professionals (AEMP) just opened up the nomination form for the 2022 AEMP Technician of the Year Award. If you work with a heavy equipment technician who has at least five years of work experience, you can nominate them today to get them recognition for their efforts.
Link to the Nomination Form: https://www.surveymonkey.com/r/KZS23SS
Application Deadline Date: June 10th, 2022
To learn more about this award, please read through the following FAQs that our team at Boom & Bucket has prepared to help.
What is the AEMP Technician of the Year award?
The goals of the AEMP Education Foundation Technician of the Year Award are to: 1) elevate the stature of the career and 2) bring awareness to the massive heavy equipment technician shortage that is impacting the industry.
The award, presented in partnership with John Deere, has been given out for the past 32 years annually at the AEMP Equipment Shift Conference in October to recognize an individual who is a true model of excellence in the profession.
You can take a look at the award presentation video for last year's award winner to get a better sense of what the award is all about.
Who makes a great candidate for this award?
Judging for this award is based on six weighted criteria. It's critical that candidates be able to stand out from the crowd and differentiate themselves from their peers along these dimensions:
10%: Recommendation from employer (i.e., the content in the nomination form).

10%: Years of Experience as a technician (5 years is the minimum). Note that the candidate will have to provide a full history of employment as well.

15%: Education, Certifications and Credentials. The candidate must be able to provide a full history of their education and training that led to skills growth over time.

15%: Safety. The candidate must be able to describe how they have worked to foster a culture of safety within their organization (themselves, their crew, the shop/worksite).

20%: Image and Professional Presence. The candidate must be able to describe things that they have done to help improve the image of the technician profession. This can include things such as volunteering, mentoring others who are thinking about becoming technicians, help training others, etc.

30%: Innovation. The candidate should be able to describe innovative practices, tools or applications they have created or applied that have led to improvements and impact in the organization that they work for.
You can read more about the judging criteria here.
What is the application process? How much work is it?
The application process and critical dates are as follows:
March 21: Employer nomination period opens.
June 10: Employer nomination period ends.\ June 17: AEMP sends candidates an electronic application form to complete (with the assistance from their employer if necessary)
July 8: Candidate applications are due. Applications will be blinded before being sent to the judging panel.\ August: Winner(s) notified.
August-September: Winners and employers supply video content to AEMP staff to create a short video highlighting the technician.
October: The 2022 Technician of the Year ceremony will be held during the EquipmentSHIFT conference.
Note that this is a fair amount of work but is not too overbearing. The AEMP understands that technicians are busy professionals and so they have gone to great lengths to keep the process as efficient as possible. If a candidate does win, there is of course some additional work to gather videos, logos, etc to help with the award presentation.
Does it cost anything to apply for this award?
No. Technicians can be nominated and can complete the application process free of charge. Note that the candidate's employer does not need to be an AEMP member.
What are the benefits of winning this award for heavy equipment technicians?
All finalists for this award will get recognition at the AEMP Equipment Shift Conference in October. It's a big honor for individuals who have put a lot of time, effort and passion into building their career as a heavy equipment technician to be recognized in front of many of the industry's leading fleet management professionals.
In addition to recognition, the winner(s) of the award will receive a prize package that includes:
Award plaque

Free registration, airfare (up to $500) and two nights of hotel accommodation at the AEMP Equipment Shift Conference in October

A custom gift from John Deere

National recognition and a feature story in EquipmentWorld magazine

Feature story in Equipment Manager magazine

One year of free membership in the AEMP

Complimentary enrollment in the EMS certificate program & exam
I was nominated for this award in a prior year but did not win. Am I eligible to be nominated again this year?
Yes. Technicians who have previously gone through the process but did not win are still eligible to be nominated again. As a best practice, it's a good idea to retain copies of any previous applications to ensure that the candidate has made continued progress in their career since the last time of nomination.
Who has won this award previously?
Here is the list of previous winners and honorees for the AEMP Technician of the Year Award:
2021 - Chase Snyder

2020 - David Alligood

2019 - John Kelchner

2018 - Paul Tombrello (Finalist)

2018 - James Blake (Finalist)

2018 - Troy Freyer (Winner)

2017 - Lee R Manzanares (Private Fleet)

2017 - Bruce D Satterwhite (Public Fleet)

2016 - Christopher Flood (Private)

2016 - Michael Naletko (Public)

2015 - Brent Schroder

2014 - MSgt James C Thomas III

2013 - Matt Pressner

2013 - Bruce Brierley

2012 -Tom Swisshelm

2012 - Jeremy Parks

2011 - Ron Bradley

2011 - Tom Hellmers

2010 - Jacques Laschet

2010 - Scott Jensen

2009 - Dwayne Tracy Still

2009 - Dennis Kincade

2008 - Brian Ganson

2008 - Craig Donor

2007 - Mark Adduce

2007 - Bruce Nelson

2006 - Timmy Compton

2005 - V. Rick Barker

2003 - Gary Boyd

2002 - Fred Brinkley

2001 - Jay Johnson

2000 - Tom Butler

1999 - Michael Smith

1998 - Dennis M. McDonough

1997 - Steve Ricke

1997 - Bill Bock

1997 - Billy Miles

1996 - James Morwood

1996 - Tom Cook

1995 - Gerry Voivod

1995 - Mike Suba

1995 - Benito Juarez

1994 - James Morwood

1994 - Steve Mortimor

1993 - Peter Mullins

1993 - John H. Johnson

1993 - Johnny Briggs

1992 - Thomas O. Tavenner

1992 - Robert D. Cashmer

1992 - John Edgar Covey

1991 - G. Dean Rinehart

1991 - Joseph Gibson

1990 - Thad Pirtle

1989 - Johnny Mac Denham
If you have any questions or concerns regarding the nomination process, key dates or forms, please contact Nathan Florek at nflorek@aemp.org.