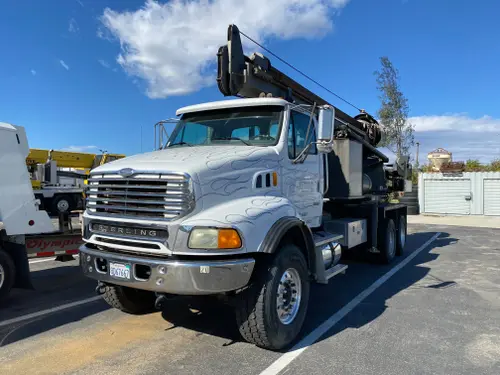 How did Inland Valley Construction get 55% more money?
Inland Valley: People, Passion & Pinstripes
"When you see those hand painted flames on a truck, you just know that Inland Valley is on the job."
Founded 46 years ago by Ken Caruso, Inland Valley Construction (headquartered in Bloomington, California) is a leading telecommunications construction company. Their in-depth capabilities include project management, construction, network upgrades, maintenance and even emergency response. Most recently, they have played a central role in helping to execute the rollout of 5G cellular networks and the buildout of several new towers to improve connectivity for millions of Americans across the southwest United States. Today, the company is led by Toni Caruso (one of Ken's three daughters) who picked up the reins in 2017 and runs the business in her father's footsteps.
Over the years, IVC has built a reputation in the industry for executing work with high quality, consistency, innovation and passion. That passion is constantly on display via their fleet of heavy equipment and trucks which has a reputation for being modern, reliable and well maintained. Additionally, all of IVCs trucks get hand painted pinstripe flames that truly make them stand out on every jobsite (a tradition that goes back decades).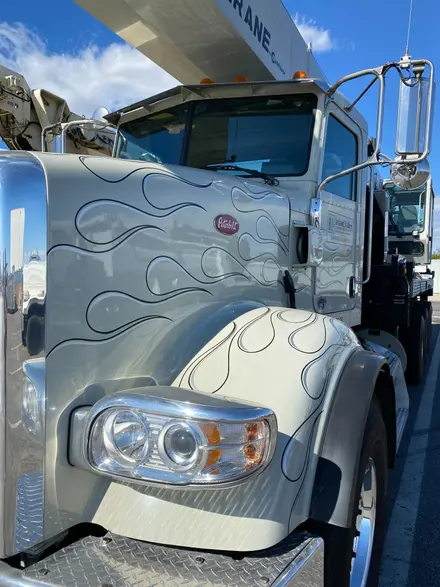 "Our biggest asset in how we can accomplish the things we can is our extensive fleet of equipment. From large cranes and booms to heavy excavation equipment and trucks, we own what it takes to provide superior service to complete the project."
Partners, not traders
In September 2021, IVC was in the process of strategically replacing some trucks from its fleet. With the planned delivery of some new equipment, it made sense to sell a couple of their Sterling L9500s (one boom truck and one roll off truck) and recoup the capital tied up in those assets. While sending the trucks to an auction was certainly an option, Boom & Bucket Fleet Advisor Abel Gaytan pitched Toni and her team on selling them a different way: a way that would enable IVC to get fair value for the quality of their trucks (and even the pinstripe flame paint jobs).
In order to maximize resale value, the Boom & Bucket team coordinated an in-depth mechanical inspection to ensure that the condition and quality of the trucks was well documented for buyers. Additionally high quality photos and videos were taken in order to pull together comprehensive digital listings of the trucks on the Boom & Bucket platform. Last but not least, the digital listings were marketed across multiple online and offline channels to quickly find interested and qualified buyers and close the sales.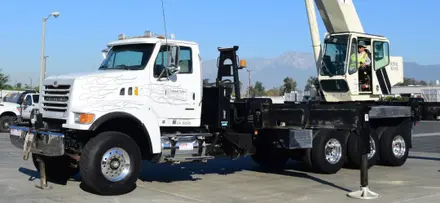 Inland Valley Construction - Sterling L9500 Boom Truck
The results? Boom & Bucket managed to sell both trucks in 5 weeks post inspection. The Sterling L9500 Boom Truck sold for 55% above estimated auction value and the Sterling L9500 Roll Off Truck sold for 90% above estimated auction value. Boom & Bucket was able to find the "right" buyers, carefully screen them and execute the transaction at a fair price for all parties. Inland Valley of course was able to continue to focus on its core business.
"I've been working with Inland Valley for the past 4 years and we have a relationship built on trust. I've always looked out for Toni and her team and have been there to help make critical fleet decisions, problem solve and save money. At Boom & Bucket, we pride ourselves on being Partners, Not Traders. I'm proud to have helped deliver outstanding results to IVC with the sale of these trucks." –Abel Gaytan, Fleet Advisor, Boom & Bucket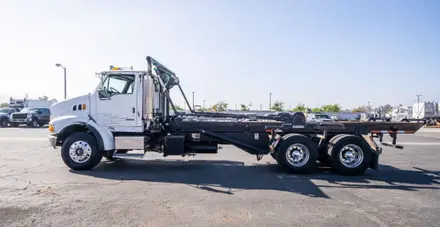 Inland Valley Construction - Sterling L9500 Roll Off Truck
A better way to sell
In the end, Toni and the team at Inland Valley were very impressed with the results that they achieved by selling through Boom & Bucket. Abel continues to go to work for them everyday in helping IVC continue to maintain their reputation as having best-in-class fleet operations and management practices.
"If you have a truck or a piece of heavy equipment that you want to sell, I recommend working with the team at Boom & Bucket. They work hard to get you a fair price for your well maintained equipment and deliver results." –Toni Caruso, President, Inland Valley Construction
Need help selling your used equipment?
If you're looking for assistance selling a piece of used heavy equipment, please reach out to our team at Boom & Bucket. We'll be more than happy to assist you in understanding what your equipment is worth and how to get the most resale value for it on the used equipment market.