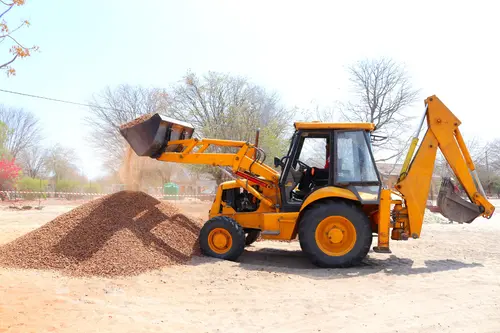 How Much Does a Backhoe Weigh?
The average weight of a backhoe is approximately 15,000 pounds, which is about the same weight as a forklift cargo container. The total weight of a backhoe depends on the make and model, as well as the attachments that are used on each machine. Choosing the right size backhoe for you comes down to what it will be used for, and how the weight will affect your project, team, or business. It may also be helpful for some to learn how to become a backhoe operator.
When do I need to know the weight of my backhoe?
Knowing the total weight of a backhoe is important in many circumstances, such as:
Shipping

Lifting it with a crane

Towing
A backhoe's weight can be an important factor for your business, so it is important to know what can affect a machine's total weight, and how it could affect you.
Choose the Right Sized Backhoe
The size and lifting capacity of a backhoe are important factors to keep in mind. The force and digging depth of the backhoe and loader are determined by the machine's hydraulic horsepower. Check the specifications carefully to ensure that the machine is rated for the depth and weight of the digging and moving that you will need it for.
While it is important to have a machine powerful enough to complete the job, it is also important to consider the machine's size. Many job sites include narrow spaces, require tight turns, or have delicate grounds or surrounding buildings that must be protected during the project. Understanding the size and weight of a backhoe is crucial to maintaining a safe and functional job site.
Attachments
Backhoe loaders are among the most versatile and commonly used pieces of equipment on construction and demolition job sites. These construction machines are compact and maneuverable, equipped with a boom, stick, and bucket, and can perform a variety of tasks including digging and moving materials. Backhoes are most commonly used for projects in farming, landscaping, construction, demolition, and snow removal. A backhoe's versatility is enhanced with a wide range of attachments that can be used to increase the machine's functionality. Some of the most common backhoe attachments include:
Auger - Adds approximately 250 lbs

Hammer - Adds approximately 300 lbs

Thumb - Adds approximately 150 lbs

Ripper - Adds approximately 350 lbs

Rear Bucket - Adds approximately 400 lbs

Cold Planer - Adds approximately 600 lbs

Coupler - Adds between 100 - 400 lbs
Backhoes need to be towed frequently to job sites, so knowing the total weight of your equipment is crucial. Understanding their total weight and capacity is also important to ensure the safety of the operator, as well as the crew on site.
Some Popular Backhoe Models
JCB 1CXT (9,600 lbs)
Caterpillar 434E (18,452 lbs)
JCB 3CX (17,196 lbs)
New Holland LB90B (18,386 lbs)
JCB 4CN (19,510 lbs)
Common Uses of Backhoes
Backhoes are small, maneuverable machines that feature a large loader on their front side, and a boom, stick, and bucket on the backside. Backhoes typically dig up to 16 feet and can remain stable even on uneven terrain. They are incredibly versatile and serve as three machines in one: a backhoe, a loader, and a tractor. With their wide range of attachments, backhoes can handle a variety of tasks from demolitions, construction, landscaping, road paving, excavating, and transporting materials.
At its core, a backhoe loader is a tractor that can maneuver across bumpy or rough terrain. Its powerful engine helps it to easily dig up or transport heavy gravel, rock, and soil, while smoothly maneuvering across uneven ground.
On one end of the machine is the loader, which helps to scoop up and carry loose material, smooth out a surface, or plow dirt. On the other end is the backhoe, which is used to dig up material that is difficult to cut through, such as compact earth, into its bucket and then emptying it off to the side to continue digging. Backhoes are great for tasks such as:
Digging up trees

Moving dirt and other loose materials

Packing topsoil

Digging fence post holes

Digging pools

Digging trenches

Moving heavy items such as rocks, boulders, and hay bales

Paving roads

Foundation work
With so much versatility, backhoes are an asset on any job site. They are commonly referred to as the "Swiss army knife" of heavy machinery and work well for jobs of all sizes. As with any piece of equipment, it is important to understand the specifications of your machine to ensure that it is used correctly to keep the crew, operator, and job site safe.