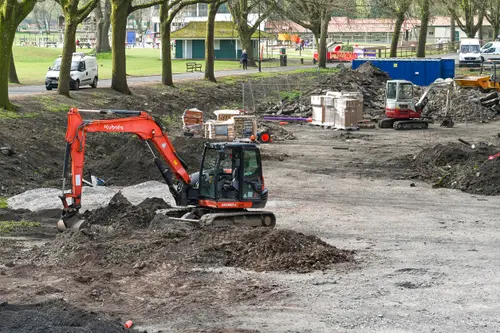 How Much Does a Mini Excavator Weigh?
The average mini excavator typically weighs between 5,000 (2,268 kg) and 10,000 pounds (4,536 kg), which is about the same weight as an African elephant! The total weight of a mini excavator depends on the make and model, as well as the attachments on each machine. The weight of a mini excavator will vary depending on what it is being used for. The larger and heavier the machine, the more powerful it will be. Deciding what size excavator is best for you comes down to what you plan to use it for, and how much the weight may play a role.
Understanding the weight of a mini excavator comes in handy in a variety of scenarios, such as:
Shipping

Lifting it with a crane

Towing
Since there are several circumstances in which the weight of the mini excavator is an important factor, it is crucial to understand what could affect the total weight of a machine, and how it could impact you.
Loaded Weight vs. Unloaded Weight
The first factor to consider when it comes to how much a mini excavator will weigh is comparing the loaded weight vs. unloaded weight. Unloaded weight accounts for the weight of the machine by itself before it lifts, digs, or carries any additional materials or attachments. Loaded weight is how much the mini excavator weighs when it has a full bucket or an attachment added onto it. Each machine has loaded weight limits that have been determined by the manufacturer. Adhering to these limits is important because:
Too much weight can tip the machine

The operator and others on the job site can be put in harm's way

You risk breaking the machine and shortening its lifespan
Each machine has its limitations and trying to exceed those limits puts the crew, project, surrounding area, and the machine itself at risk. Avoid purchasing a mini excavator that will be too small for some of the jobs it will be expected to perform. Doing so will cost you time and money since any damage to the machine will cause a significant amount of downtime while it is being repaired or replaced. Keeping the loaded weight and unloaded weight in mind before sending an excavator out on a job will ensure the safety of your crew, equipment, and will prevent delays on the project.
Attachments
Mini excavators are incredibly versatile machines with a variety of attachments to choose from. The attachments expand the excavator's flexibility and efficiency and help you get more out of your machine. However, it is important to know how much weight you are adding to a machine when adding an attachment. Here are some of the most popular attachments, and the additional weight they add to a machine.
Hydraulic Thumb - adds between 60 - 110 lbs

Trenching Bucket - adds between 145 - 290 lbs

Hydraulic Breaker - adds between 410 - 1160 lbs

Auger Attachment - adds between 151 - 217 lbs
Accounting for the added weight of an attachment will ensure that you do not overload your mini excavator or risk damage to the machine or injury to the operator.
Popular Mini Excavators
Yanmar VIO35-6A (8,214 lbs)
John Deere 30G (7,220 lbs)
Doosan's DX35-5 (8,193 lbs)
Case CX37C (7,990 lbs)
Takeuchi TB240 (8,570 lbs)
Kubota KX040-4 (9,195)
Common Uses of Mini Excavators
Mini excavators are a great tool for job sites with limited space, or that require a machine that can fit into small or narrow areas. Since they have near-zero tail swings, they can be used safely near other buildings and structures without posing a threat. They also offer higher accuracy when digging in tight spaces and areas that have numerous gas lines or pipes that are buried near the job site.
Many owners and operators like mini excavators because they are easy to transport, and don't require as much fuel. This saves time and money, without sacrificing their capabilities. They are great to use on softer terrain to avoid damaging the grass, soil, or pavement in the surrounding area. While they don't have quite as much power as their full-sized counterparts, they are perfect for a variety of jobs including:
Pool installation

Digging graves

Pipe repair

Landscaping

Renovations

Tree harvesting

Small demolition jobs
Mini excavators are a great addition to any fleet as long as they are operated safely. Knowing the weight of the machine, as well as its attachments, will help give your equipment a longer lifespan, and make sure that it meets all safety standards.