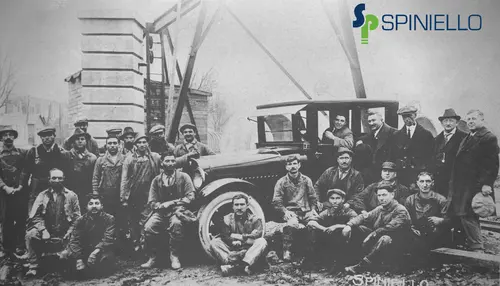 How Spiniello Sold Service Trucks the Easy Way
Spiniello is a 99 year old leader in the fields of pipeline rehabilitation, water utility and sewer utility management. The firm, comprising Spiniello Companies and Spiniello Infrastructure West, principally offers service solutions including CIPP, sliplining, bypass pumping, pipe bursting, CML, geopolymer, shotcrete and heavy construction. Based out of Spiniello's Baltimore office, Ed Misch (Fleet Manager) oversees and is responsible for over $20M in equipment. Given a fleet of this size, Ed regularly has to make asset dispositions to ensure that he always has the right mix of equipment available to the team.
In April of 2021, Ed got in contact with the Boom & Bucket team. He needed to sell a couple of good service trucks from the fleet that were underutilized and he wanted to redeploy that capital into other assets. For Ed, two things were really important: he wanted to make sure he was able to sell his trucks for a fair price, and he wanted the process to be easy. The Fleet Manager role is a busy one and Ed needed confidence that the sales would get done without any fuss or hassle.
Service truck details

2011 Dodge Ram 2500HD Service Truck
2011 Dodge Ram 3500HD Service Truck
Mileage: 197,581 miles
Service Trucks International STI Model 3215E
Cummins 6.7L 24V I6 305 Hp Turbo Diesel
Crane: 3215E 3200 lbs / 15 ft reach with 20 ft corded remote
Crane tower: 20,000 ft/lbs rated, 4000 degree rotation
Tanks: (3) 60 gal / 30 gal /30 gal oil+fuel waste tanks
Outriggers: 2 in rear
Grease system: Graco 35 lb grease system 50 ft hose 4000 psi cabinet
Waste: waste out 35 ft hose and oil out 50 ft hose and cabinets
Welder: Miller Big Blue 400D pro stick welder
Compressor: Honda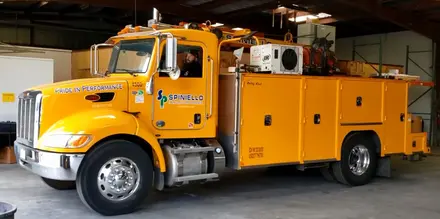 2012 Peterbilt 337 PX-8 Service Truck
2012 Peterbilt 337 PX-8 Service Truck
Mileage: 91,766 miles
Service Trucks International Model 1061
Cummins 8.3L 300 Hp Turbo Diesel
FR012210C Eaton Fuller 10 Spd Manual
Crane: Tiger 1061 with 21 ft reach and remote
Waste Tank: 40 gal
Air Tank: 22 gal
Pump in: Graco waste-in with 35ft hose
Pump out: Graco oil with 50ft hose
Graco grease air system 35 lbs, 50ft hose 4000 psi
Metered pumping cabinet
PTO Air Shift
Hydraulic Outriggers
Engaging with Boom & Bucket
Once Ed had identified the trucks that he wanted to sell, the Boom & Bucket team got to work leveraging their industry insight and tech platform.
First, comprehensive valuation reports were compiled and shared with Ed to set clear expectations on what the current market value for the trucks were. After carefully walking through the valuation reports, the next step was to get both trucks photographed and inspected. The purpose of this step was to ensure that: i) there were no mechanical deficiencies that might negatively impact resale value and ii) there was high quality imagery and diligence materials available for prospective buyers to enable quick decision making. This inspection step proved critical when the inspector discovered that the crane on the Peterbilt truck was not functioning. Discovering this deficiency early enabled Ed and his team to perform repairs and preserve resale value. Last but not least, a comprehensive listing page was created on boomandbucket.com and the asset was automatically marketed on multiple channels to get the trucks in front of a large audience.
Within just a few days, the buyers started to show up in a significant way. The Boom & Bucket team answered buyer questions, qualified buyers and ultimately negotiated price.
First Sale: Dodge sold sight unseen
From the moment Ryan Parkhust (owner of Parkhurst Excavation and Parkhurst Trucking) in Washington saw the listing of the Dodge Ram 3500HD, he was convinced that he had found the ideal service truck for his operation. He considered making the trip to see the truck in person but after reviewing the detailed photos, inspection report and videos of the truck, he decided that there was not much more he needed to look at. After a quick phone call, he wired funds to complete the purchase and the Boom & Bucket team took care of arranging transport as an added convenience.
"I had a great experience buying with Boom & Bucket. I got a great truck at a fair price and I didn't have to deal with flying out. Communication was excellent and the process was easy." -Ryan Parkhurst, Owner, Parkhurst Excavating
Second Sale: Peterbilt discovered in Oklahoma
Soon after the Dodge truck was sold, the Boom & Bucket team was contacted by Mike Davis who is a mechanic at Williams Diversified Materials. Mike had been pushing his boss Bill Buck to get a better service truck and when he came across the listing for Spiniello's Peterbilt, he immediately said to himself: "that's my truck." For Mike, the crane and lube kit was a huge selling point. Previously he was hauling 5 gallon lube cans and pulling transmissions with an excavator. It was labor intensive and not efficient.
Knowing that a truck like this would not be on the market long, Mike put down a deposit and hopped on his motorcycle to head out to Spiniello's yard. While shipping was available, Mike wanted the satisfaction of driving the Peterbilt back home himself. According to Mike, the quality of the pictures online and the detailed information provided in the listing were what sealed the deal.‍
"Working with Boom & Bucket was great. With all the photos, reports and information, I was confident that I really knew what I was getting into. I'm really happy with this truck." -Mike Davis, Mechanic, Williams Diversified Materials
Getting results for Spiniello
In the end, Boom & Bucket got Ed $30,000 for his Dodge Ram 3500HD and $100,000 for his Peterbilt representing 50% and 33% price improvement over auction value. After commissions, Spiniello walked away with $26,500 more money, a significant sum that can now be reinvested into the company's fleet.
"I would definitely recommend working with the Boom & Bucket team. They made the transaction process smooth and easy but most importantly got us fair prices for our trucks" -Ed Misch, Fleet Manager, Spiniello
Need help selling your used equipment?
Our team at Boom & Bucket would love to help you sell your used heavy equipment. Please reach out to our team at support@boomandbucket.com and we'll set up a time to walk you through our approach and process. We're happy to pull together free valuation reports as well to give you a better understanding of what your machine might be worth on the resale market.